Aaron's Idea
Aaron contacted me to ask if I could create a shaped eternity ring to fit around the marquise diamond and trilliant sapphire 3 stone engagement ring I had made for his then fiancé back in 2013 and that would also compliment the plain shaped wedding ring I had created the following year as they were now expecting their first child and he thought it would be a nice surprise for his wife Jenny.
Sourcing The Sapphires
He questioned if it would be possible to source sapphires of differing hues that could possibly graduate from dark to light. I informed him that although sapphires are available in differing depths of colour I would need to investigate the availability of sapphires the size we would require (2mm round) to achieve the correct variance in hue that would look correct.
Having contacted my preferred coloured stone dealer who confirmed they had a cutter in the far east that can cut and create uniform sets of graduating diamond cut sapphires. Having the sapphires diamond cut adds to their brilliance but costs a little more. They sent me a set of 25, 1.5mm round sapphires that range from a very rich dark to very pale.
We discussed various options for the design but agreed on having a plain platinum 'V' around the diamond like the wedding ring with 6 sapphires tapering in hue down each side and finishing with a diamond that would frame the sapphires.
I explained that I would need Jenny's rings to allow me to shape the new ring correctly to fit with the engagement ring. As Aaron was desperate to keep this a secret from his wife and them now living in London a plan had to be hatched to get the rings to me without her suspecting.
I suggested that since the rings had not been revalued for a number of years it might be a good opportunity to have me check them over and update a valuation for insurance. I spoke to Jenny who, by chance, deals with the house insurance and she was more than happy to send them up to me especially since I was offering to check them over, clean and polish. As checking over etc. would, in theory, only take a few days I had to plan out my workload to allow me the opportunity to create the new ring mount to fit with the engagement ring while I had the rings for checking and revaluing. The ring would need to be sent to the Assay Office in Edinburgh to be hallmarked, which can take up to 5 working days, but this could be done once the engagement and wedding rings were sent back down to London. The sapphires too would take a number of weeks to arrive from the Far East and would be set after the ring was returned from the Assay Office.
All went to plan except for one wee thing – a bundle of joy arriving 3 weeks early!
The Finished Article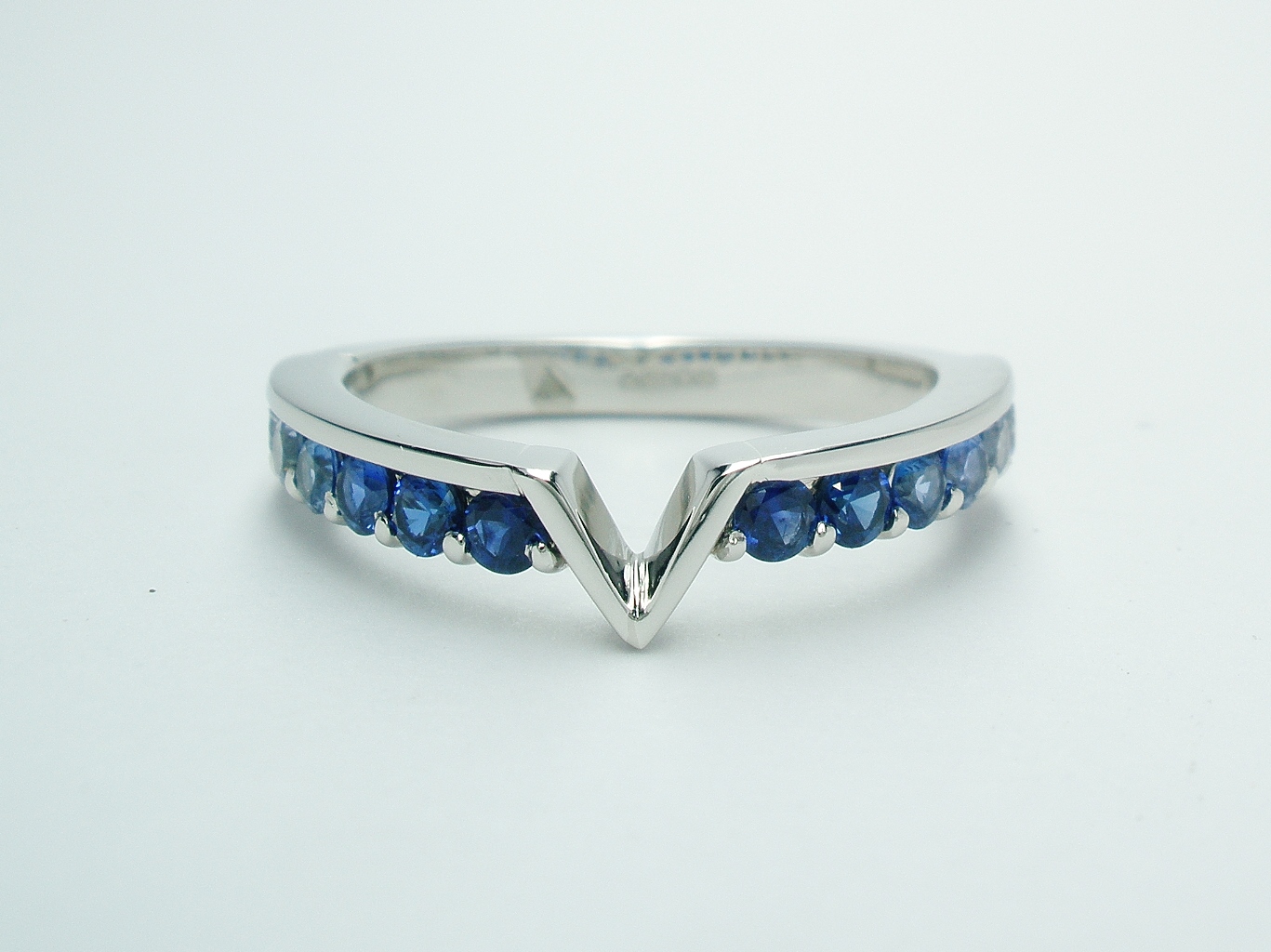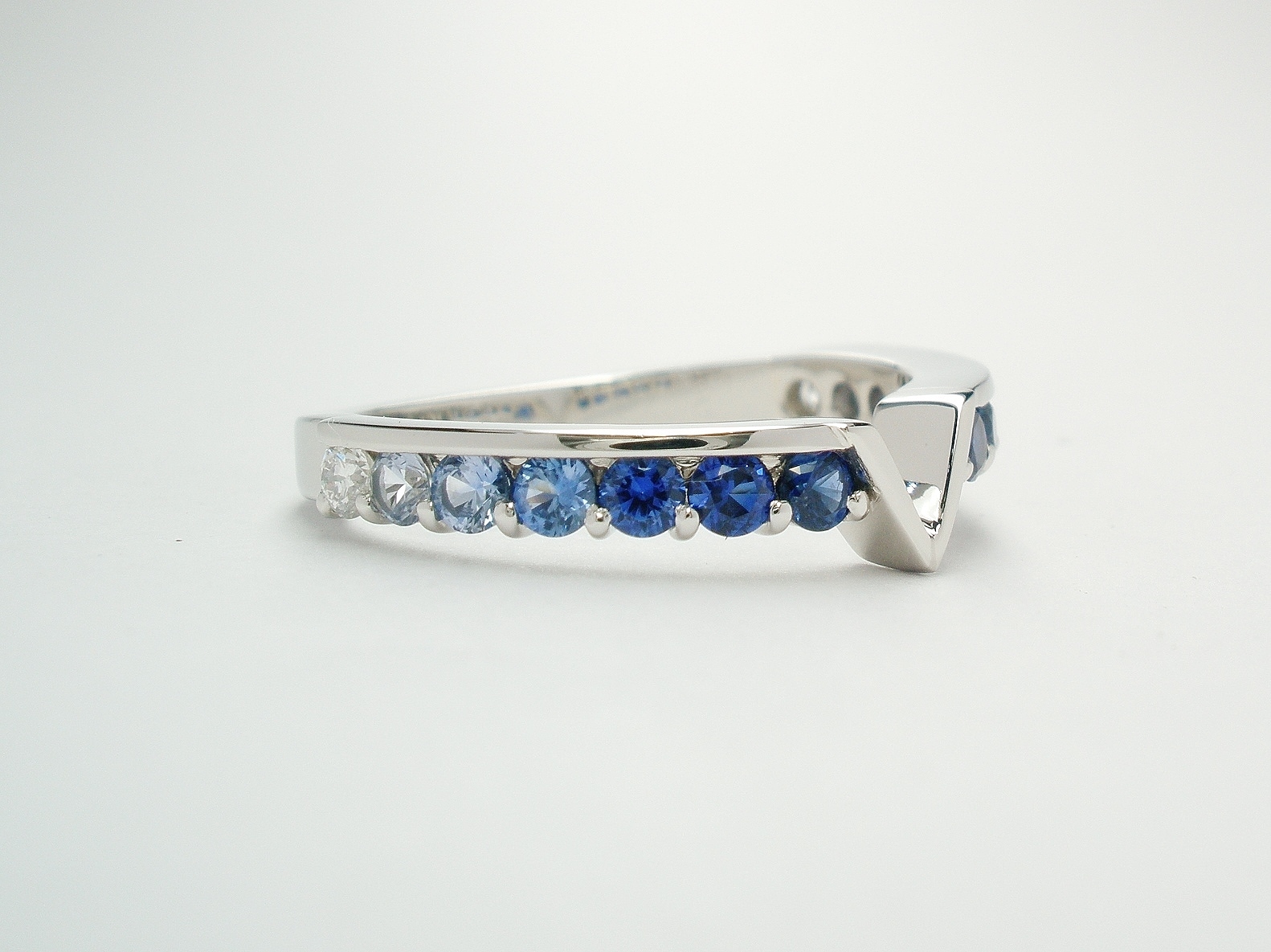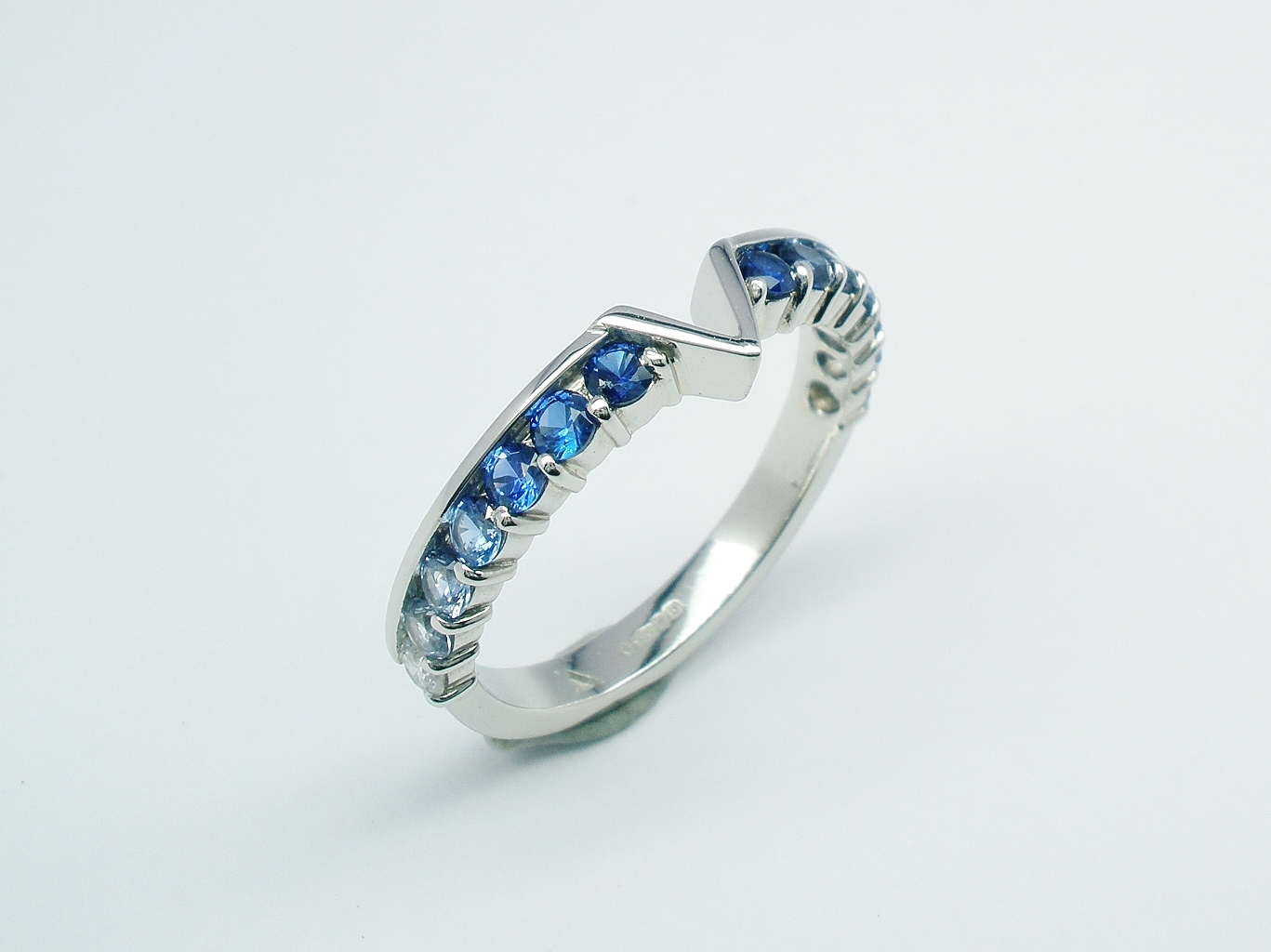 The new eternity ring. Due to the circumstances I was unable to get a photograph along side the engagement ring.
Although the ring was not ready for the premature arrival it was very well received once it was delivered.
Aaron wrote a detailed review on Google which is below with my reply.
Aaron wrote:
"As somebody who is pretty particular, I had a hard time finding what I wanted when looking for an engagement ring back in 2013 – as evidenced by a long list of disgruntled jewellers across Glasgow! The last of these told me that he didn't think that what I wanted was possible, but that maybe I should talk to Alan Fulton in Eaglesham as, if anybody could design what I wanted, he could. Not only did Alan think that what I was suggesting was no problem at all, but his quote was almost half of the last person's. Eight years later, my wife is the very proud owner of an engagement ring, wedding ring (and mine), matching sapphire earrings, a re-set and refurbished heirloom ring and, very recently, an eternity ring. Every one of these items was made by Alan, attracts lovely comments each time she wears them, and came in significantly under budget. I have 100% faith in Alan – to really listen to my design ideas (and push them in the right direction), to stay under the agreed budget (and, unlike anyone else I talked to, not even consider the budget as a target to reach), and, most importantly, to create something beautiful. I would whole-heartedly recommend him to anyone that will listen!"
My reply:
"Aaron,
As a very busy man it is much appreciated the time you have taken to write such a detailed review. Remembering back to 2013 you were very detailed in the detail of the design of the engagement ring. Knowing your line of work, within your profession, I can fully understand this and although many jewellers might either take fright or just say it was not possible, to me, clients being very detailed is an assistance as it enlightens me to exactly their requirements. Attention to detail and being particular is very important to me too! Remembering back to the initial consultation for the engagement ring the fine detail you went into initially surprised me but then I found out your profession and I understood. On pick-up, once completed, you asked to view the ring with a 10x lens which as an eye surgeon was second nature for you to use. The engagement ring is unique and iconic mainly down to your vision with some technical input from me that adds to the overall look. The latest addition of the eternity ring is again unique, again your concept, which I was able to assist from my knowledge of hues of blue sapphires. I am delighted you and Jenny are so happy with the finished result of the eternity ring.
Thank you once again.
Kindest regards,
Alan"
Aaron was able to present this beautiful gift to his wife, while getting exactly what he wanted and under budget.
If you would like the perfect gift for eternity, please get in touch. I have customers worldwide, from our home in Glasgow… to London, California, Australia, Switzerland, Botswana, Canada, Singapore and Holland to name a few.
Telephone:
01355 302 960
…or visit myself and Dorothy in the studio: 
Alan P. Fulton, 14 Montgomery Street, Eaglesham, Glasgow G76 0AS