Iain Tells The Story
"Last year I lost my wedding ring, luckily it wasn't an expensive one. For some reason Carol, my wife, kept moaning about getting a new one. I have never really bothered with jewellery and being a mechanic you don't get to wear it often. This time however, I knew I wanted something beautiful, unique and interesting"
A Change Of Direction
I remember Iain explaining that as a 'hands on mechanic' his original had not been an expensive ring but this time around would like something of quality that he could take care of and treasure.
"I had seen some of Alan's work on his website which really impressed me, so I booked an appointment to see Alan to discuss making me a ring that I would love and take care of."
I arranged an appointment with Iain where we could discuss thoroughly his wishes and requirements. Due to Iain's profession I thought that a ring that resembled a low profile tyre with a tyre tread pattern carved around may be appropriate and to his liking. Showing Iain a photograph of a similar ring made previously, he instantly liked the concept.
"After a conversation with Alan and a lovely coffee made by Dorothy, Alan's wife, he suggested making a ring that looked like a tyre, showing me a few pictures of a ring he had previously made for another client. Instantly I knew this was what I wanted. I went away a happy man but Alan, being the perfectionist he is, wanted my ring to be a bespoke piece of jewellery unique to me. He sent me various pictures of tyre treads and asked me to pick what tread I wanted to ensure no one would have the same ring as me, really making mine a true one off!"
The pattern on the previous clients ring had been taken from a Pirelli tyre. I wanted to create an original for Iain, so I went on the hunt to find different interesting tyre tread designs. Having photographed a few, one stood out from the rest. This was the pattern Iain preferred and chose and, by coincidence, was also a Pirelli tyre!
This is the actual picture I took as the basis for the final ring
I spotted it in my local fitness centre car park!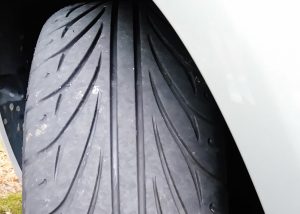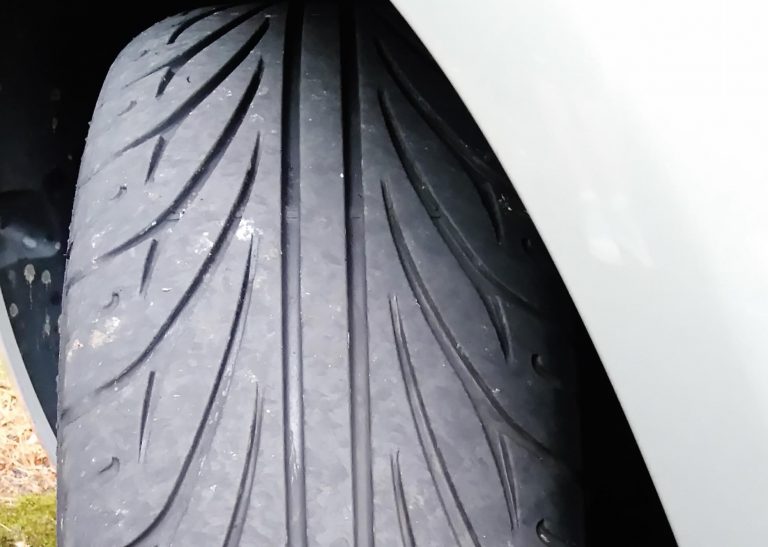 The Technical Part
Discussing the metal required Iain wanted it to be as hard wearing as possible. By far the most durable of the precious metals is platinum. Explaining this to Iain he was happy to proceed with platinum.
The basic ring was initially created to mimic the look of a low profile tyre. The pattern was primarily drawn around the ring freehand with a sharp steel scribe. This was then worked into freehand, again and again, with a series of fine steel burrs until the required depth of carving and correct look was achieved.
Iain's Final Thoughts
"When Alan phoned to say the ring was ready for collection, I was very excited to see it. Once Alan revealed the ring I have to say I was speechless. The attention to detail was outstanding! This ring was literally made for me! I felt Alan went the extra mile to make something beautiful, unique, interesting and bespoke for me, exactly what I wanted. Truly a master of his trade.

"I wouldn't hesitate to recommend Alan to my family and friends, confident in the knowledge they would receive nothing but the best. Alan and Dorothy do give you the family run business feeling and you know they take pride in everything they do from start to completion.

Thanks Alan. This ring will be with me the rest of my life and has already been the centre of many conversations and I'm sure, many more in the future."
Iain now has a wedding ring that he can wear with pride, that reminds him every day of his bond and is also uniquely tailored to him
If you would like a wedding ring designed and commissioned from scratch, please contact me. I have customers worldwide, from our home in Glasgow… to London, California, Australia, Switzerland, Botswana, Canada, Singapore and Holland to name a few.
Telephone:
01355 302 960
…or visit myself and Dorothy in the studio: 
Alan P. Fulton, 14 Montgomery Street, Eaglesham, Glasgow G76 0AS