Stephen's initial contact
Stephen contacted me asking if I could make his wife a dress ring for their forthcoming wedding anniversary. He informed me she had an idea of a style she would like and asked if I would be willing to create a ring I had not necessarily designed. I told him I am happy to do so, as long as, technically, the design is sound, since the client is 'king' and I really do aim to please. As they were going to be traveling up from Manchester I told Stephen I was happy to fit in with their availability as far as a consultation appointment was concerned.
At the consultation I was shown a CAD (Computer Aided Design) digitally created image of an emerald and diamond ring.
Could it be done?
They wondered if I could create something similar but in 2 tone metal which would tie in with the wedding rings I had made a number of years previous. I confirmed that making the mount in 2 tone metals would not be a problem at all, however, I did point out a couple of changes that I would make which would, in my opinion, improve the look and also protect the emeralds better since the ring was going to be worn daily and the fact that emeralds are brittle and easily damaged.
Firstly, it is my opinion that the coloured stones look better if framed by the diamonds on the outside rather than the way they are shown in the image so we would have 3 emeralds and 4 diamonds.
Secondly I suggested channel setting the stones in yellow gold which would protect the emeralds, be a smoother finish and not as prone to catching as the claws would be and set in yellow would through up the colour of the green emeralds and white diamonds.
They agreed to these changes.
Sourcing the stones
The next stage was to source a set of quality emeralds and as they lived a distance away I said once I had emeralds I was happy with I would set them up along with the diamonds in a gem viewing box and send them down a photograph.
Once viewed they were happy to proceed and I confirmed I would have the ring ready in time for their anniversary.
The completed ring
Having completed the ring on time they arranged a long weekend and came in to collect the ring on the actual day of their anniversary.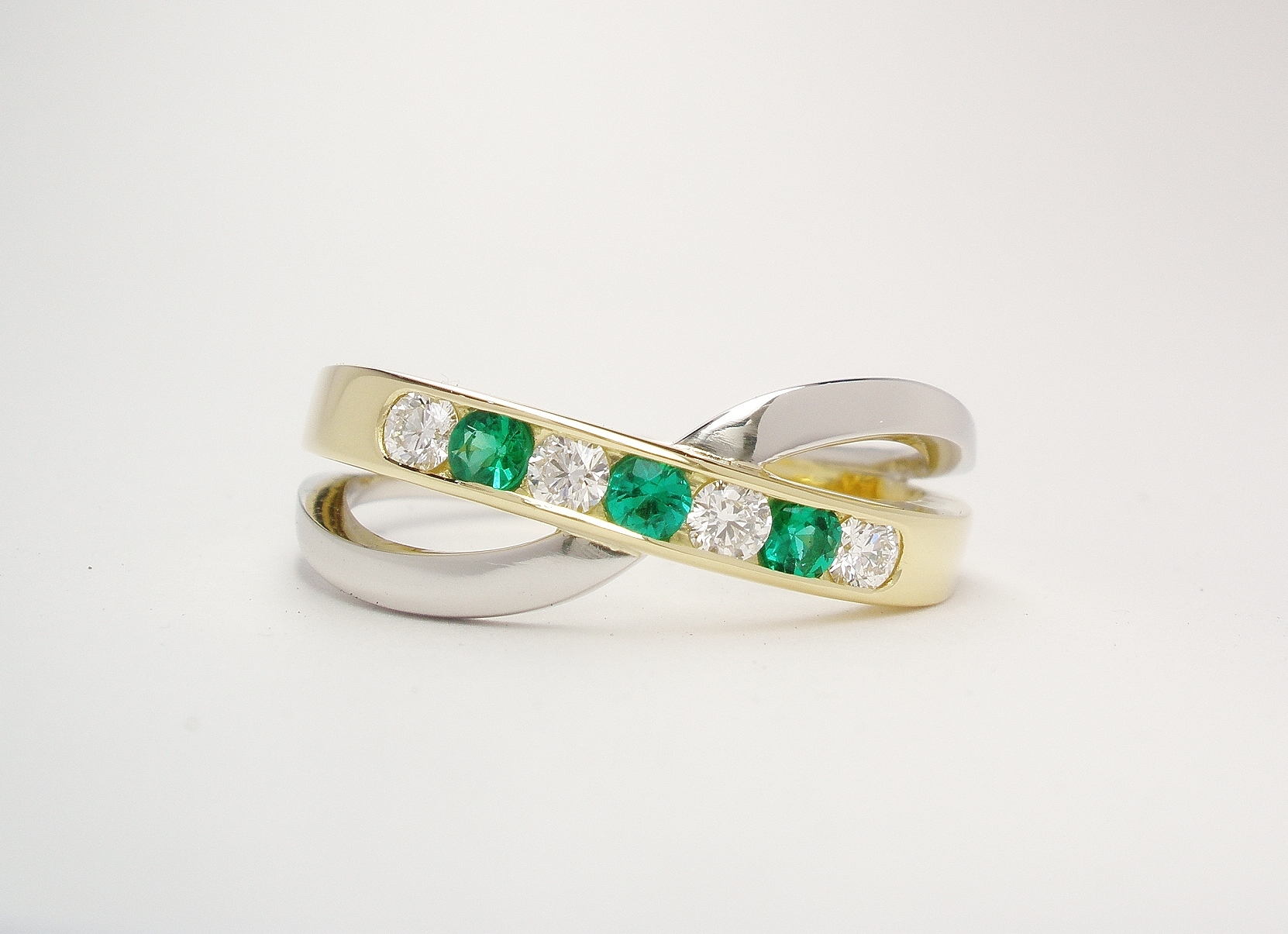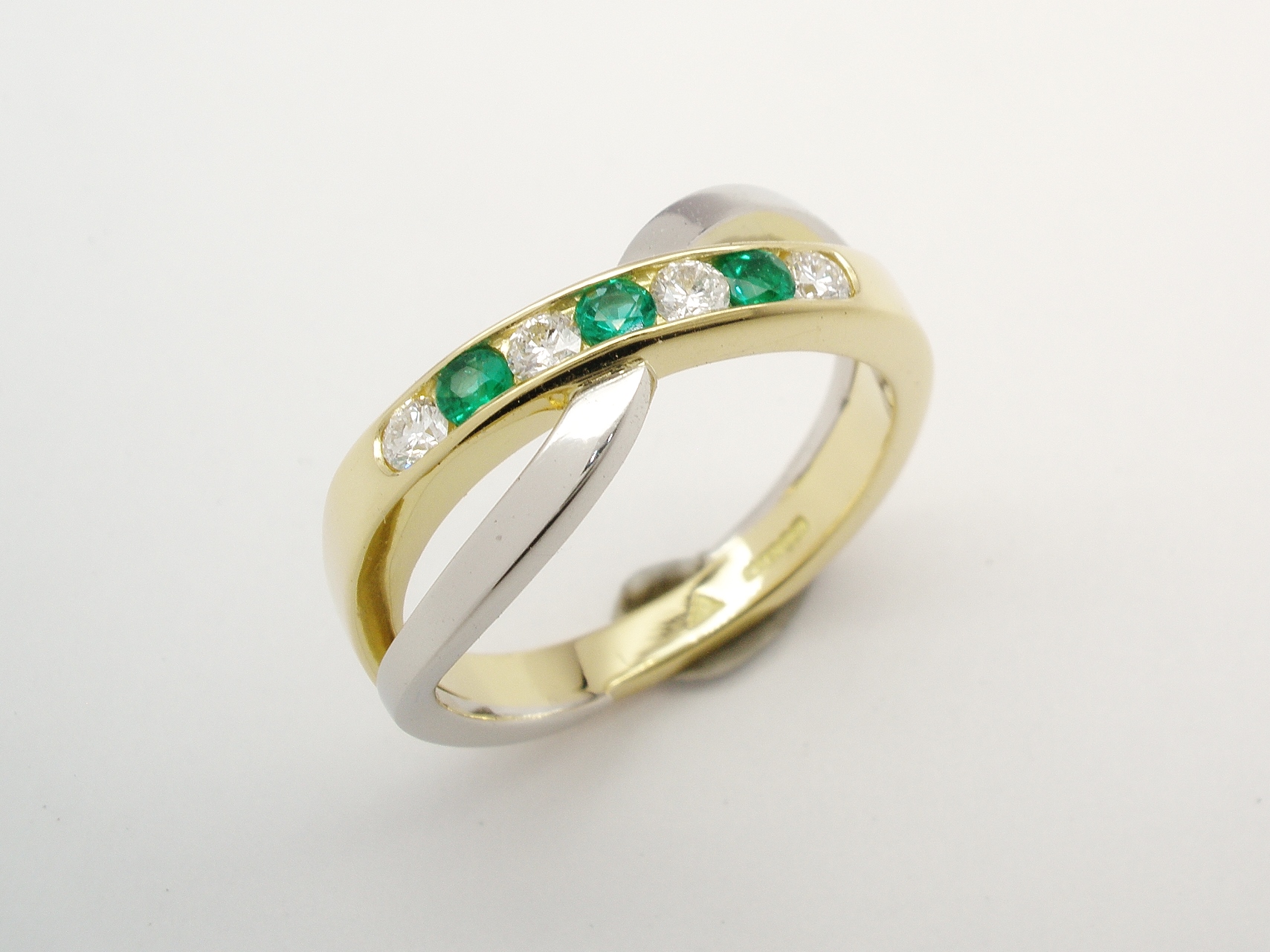 Both Stephen and his wife were delighted with how the ring had turned out and Stephen took the time to write a very kind review on Google:
"15 years ago we were married. We first met Alan at a wedding fair where we were convinced that designing our own individual rings was a great idea. We love our rings. 15 years later, I wanted an eternity ring to celebrate the milestone. Only one thing would make it even more special and that was to have Alan make a bespoke ring.

Alan is a real gentleman who loves his art and puts his customer at the heart of his work. We travelled 4 hours for an initial consultation and worked with Alan to bring concept to design. After that, Alan kept me up to date with progress and price.

We are exceptionally pleased with the ring. It is everything that we wanted and knowing that it is not only individual but also crafted to the highest quality, makes it a symbolic piece of jewellery that we will treasure forever.

I would use Alan again and again and again!"
What once began as a CAD drawing became reality, with some subtle improvements to make this dress ring the best it could be for Stephen's wife…and in time for their anniversary!
If you would like the perfect dress ring, perhaps for an anniversary, please get in touch. I have customers worldwide, from our home in Glasgow… to London, California, Australia, Switzerland, Botswana, Canada, Singapore and Holland to name a few.
Telephone:
01355 302 960
…or visit myself and Dorothy in the studio: 
Alan P. Fulton, 14 Montgomery Street, Eaglesham, Glasgow G76 0AS