The Clients Brief
Mhairi contacted me looking to have two rings she had redesigned into one ring. One was an 18ct.white gold cocktail style cluster with a broad shank with seven diamonds of differing sizes and cuts; one pear shaped diamond, two round brilliants of differing size and two pairs of marquise cut of differing size. The second ring was a five stone round brilliant cut diamond bar set eternity style mounted in 18ct. yellow gold.
Mhairi commented that she now disliked the broad shank of the white gold ring and was looking for a far narrower shank on the new ring. She also requested all the diamonds be used in the new ring and it to be created in platinum.
Measuring The Stones & Sketching
Although I can get reasonably accurate measurements of the stones and work a design from these, it tends to be easier and better having the stones loose to be able to shuffle around and see how they match or indeed sit together, however, I never like taking the stones out of their present settings until the client has given me permission to proceed. This can mean, very occasionally, a small amendment to the original paper design. If this were the case I inform the client of any slight alteration and invite them in for a consultation to see first-hand. In the past clients being informed in this way have said they trust me and just to carry on which is rather flattering.
Having measured all the stones I set about sketching up ideas that might work allowing the stones to sit with one another and taking into consideration the position and number of claws that would be required to hold the diamonds securely yet not to have too many making the ring look too metallic. After sketching a good number of rough ideas, a final design was created as seen below.
Mhairi's Visit & The Creation
I called Mhairi to come and view the design which she did and proceeded the order. I did warn her that due to the complexity and number of different shapes and sizes of the diamonds it may be that once I have the diamonds out of their original settings small adjustments may need to be made to the layout of the diamonds and indeed the design.
Once removed from their settings I set the diamonds up in white tack and was relieved that no adjustment was necessary so proceeded with creating the ring which can be seen below.
Below the paper design and finished ring side by side for comparison.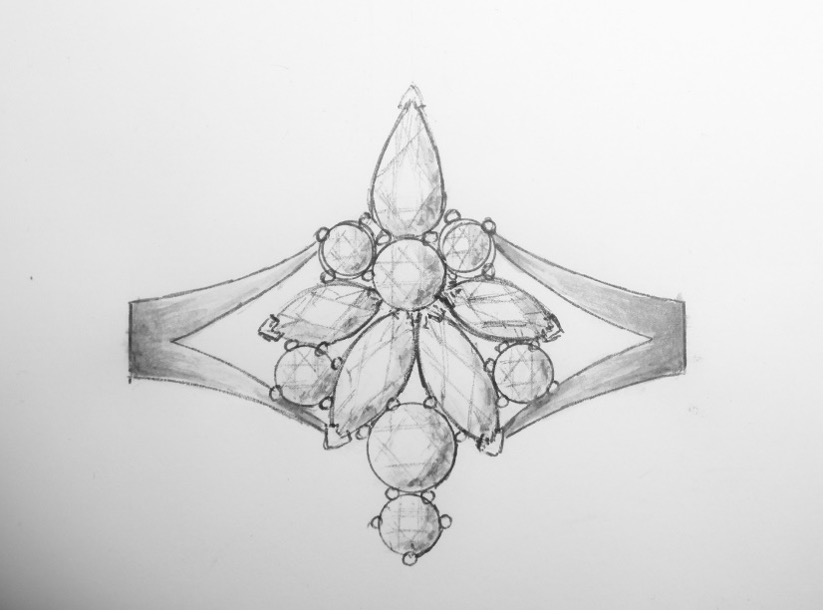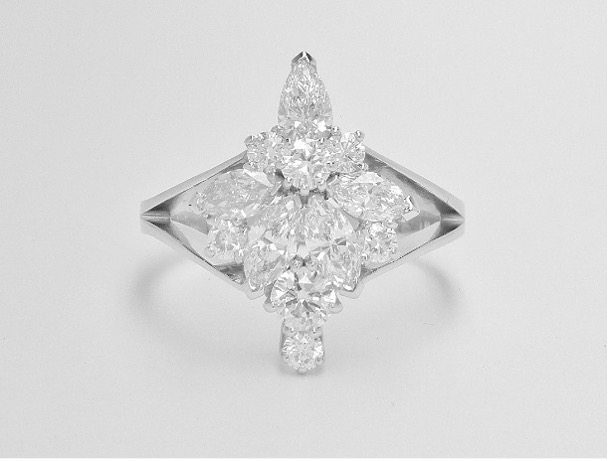 Having picked up the ring and being delighted with it she then sent me a Thank You card with the message inside: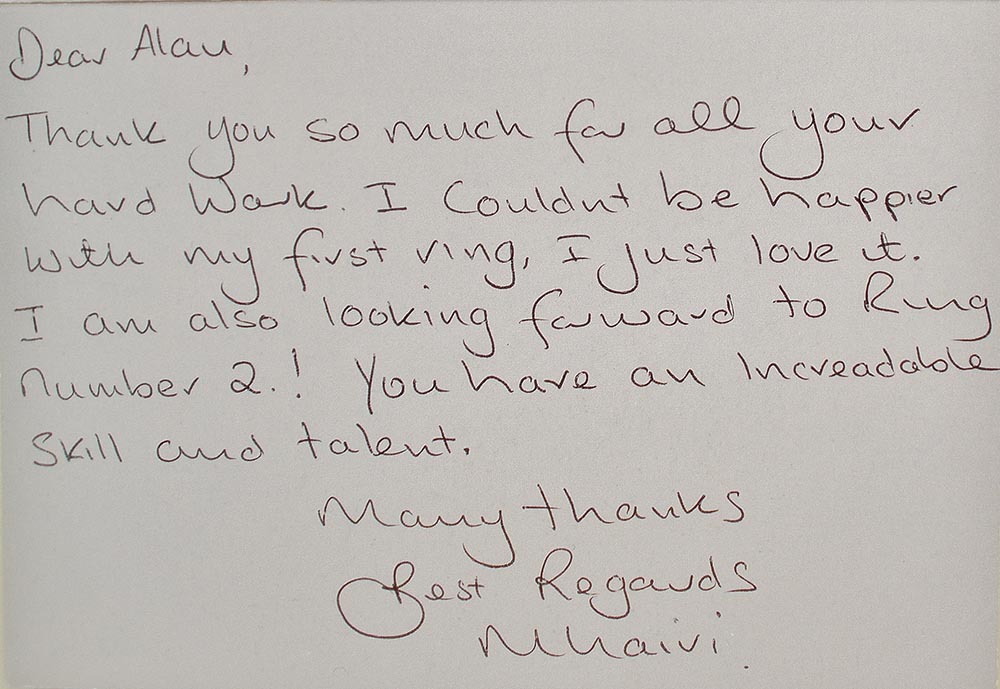 This is a fine example of how we can take one (or several) of your existing jewellery collection and turn it into a stunning piece that is unique to you.
If you would like your jewellery remodelled, please get in touch. I have customers worldwide, from our home in Glasgow… to London, California, Australia, Switzerland, Botswana, Canada, Singapore and Holland to name a few.
Telephone:
01355 302 960
…or visit myself and Dorothy in the studio: 
Alan P. Fulton, 14 Montgomery Street, Eaglesham, Glasgow G76 0AS