The Perfect Match
My client Rocco begins…
"Dear Alan,

Being an interior designer myself I was looking to find a jeweller that really understood my wishes. I realised that being a perfectionist when it comes to design and details made my search for the perfect jeweller even harder. I say jeweller because my search wasn't so much aimed to finding the perfect ring, but at finding someone that could understand my design wishes and take it to the next level.

After searching in Rotterdam for quite a while, I just couldn't find someone that was fitting my needs. That's when I started looking around on the internet. When I found Alan, the first thing that I noticed was the care he put in to presenting his works. Beautiful detailed pictures of his creations that really left no room for hiding any flaws (if there were any). When I looked at his works I was sold, that's when I started thinking about planning my proposal in Scotland."
Having received an email from Rocco in Rotterdam Holland, asking for advice with supplying an engagement ring, rather than emailing back I contacted Rocco by phone. I believe that at times it is better to talk than to text, or email, as it is more personal and you can explain and discuss more accurately.
During our first phone conversation Rocco explained he had searched for some time in Rotterdam to find a jeweller who was able and willing to design and carry out the work he was requesting. As a designer himself with a keen artistic eye and a practical brain he felt that the jewellers he had approached were neither answering his in-depth technical questions nor able to hand craft the quality item he desired.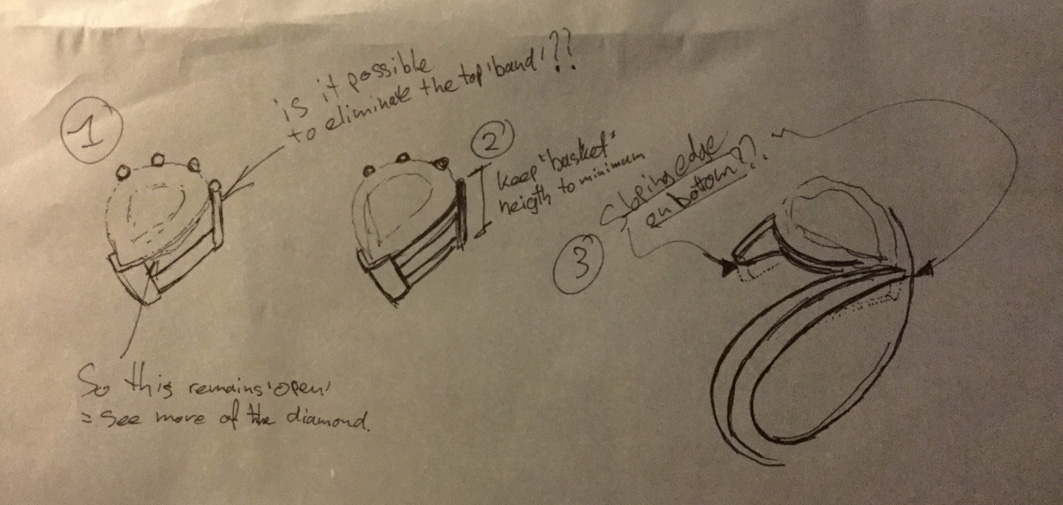 On To The Ring
Rocco explained he was looking for a single stone pear shaped diamond ring and had seen the wishbone cross-over ring on my website. He explained that as his girlfriend had long slim fingers he thought a pear shaped diamond would suit her finger and hand better than either a round brilliant cut or a square princess cut.
I agreed with him but also pointed out that pear diamonds come in differing proportions of length to width so some can look longer and slimmer while others can have a short fatter look. I suggested he send a photo of his girlfriend's left hand to let me see her engagement finger to determine what proportion of length to width a pear shaped diamond should be to best suit her finger.
This he did and the appropriate slimmer proportioned diamond sourced of the colour and clarity requested and the size and price to suit Rocco's budget.
We then had detailed discussions regarding the exact style of the setting and how it could and would be constructed. Rocco sent me some sketches of how he envisaged the setting to be made and after receiving I was able to explain, although possible to create, if this were made the diamond would not be safe as the setting would not be strong enough and the diamond not supported properly. This Rocco understood and his request to proceed received.
The Proposal!
"After contacting Alan we had a nice talk about my wishes and even though I considered myself well informed, Alan was telling me all about the important characteristics in material, manufacturing and quality. That's when I knew I had found the perfect match for me.

What followed were a few phone talks and emails back and forth to discuss the details of the ring, from the proportions of the diamond to the way the ring would be matched to it and my fiancée's hand. After everything was decided I started planning my secret trip to Scotland for the proposal."
Although the finished ring could have been safely shipped by courier to Rotterdam, Rocco preferred to bring his girlfriend on a short break to Scotland where he could propose at a romantic setting. This involved me delivering the ring to Rocco, by hand, at a venue where his girlfriend would not suspect and his secret would be preserved.
All worked out, the proposal went perfectly and it was lovely to welcome the newly engaged couple into our studio the following day.
The Result
"Alan and Dorothy really helped me make the most out of this special vacation. A BIG thank you to Alan for dealing with my questions, sketches, etc. and for making the best possible engagement ring I could wish for!

Cheers Rocco & Bodil"
Distance need not be a problem and you can be assured that at Alan P. Fulton we go that extra mile to assist clients and make sure their dreams are realised!
If you would like an engagement ring designed from scratch, please get in touch. I have customers worldwide, from our home in Glasgow… to London, California, Australia, Switzerland, Botswana, Canada, Singapore and Holland to name a few.
Telephone:
01355 302 960
…or visit myself and Dorothy in the studio: Alan P. Fulton, 14 Montgomery Street, Eaglesham, Glasgow G76 0AS