Back Story…
Duncan's initial contact was by phone when he explained he was looking for a special pendant to commemorate his wife Christine's 50th birthday. Although his wife's birthday was later in the year he was hoping to have the pendant for their holiday to Austria when they would be staying again in the same hotel in Vienna where they spent their honeymoon.
Duncan went on to explain they loved to cycle and go on cycling holidays through the Germanic countries but their favourite was Austria. He also mentioned that his wife loved rubies and indeed had a ruby in her engagement ring.
His thoughts were, would it be possible to incorporate some of these details in the design?
I told Duncan to leave this with me and I would draw up a few ideas.
Having considered the significance and sentiment behind the whole concept I was able to produce two drawings which I thought fulfilled Duncan's brief, with one in particular being my favourite.
I arranged an appointment for Duncan to view the designs and when he saw them he was immediately drawn to one which he said ticked all the boxes and more over would be striking.
The design was of a spoked mountain bike wheel to be made in palladium with a round brilliant cut diamond as the hub. An outline of the map of Austria created from a fine 18ct. yellow gold wire was to be overlaid on the wheel. The position of the city of Vienna to be represented by a smaller round brilliant cut diamond. Between the two diamonds would be set a pear shaped ruby with the pointed end pointing to Vienna.
Getting The Right Ruby
Prior to our consultation I sourced a ruby of the correct size, proportion and of very good colour and clarity to let Duncan see. Having been delighted with the design and the ruby he proceeded with the commission.
I completed the pendant in time for their holiday and on picking up, Duncan said he was absolutely delighted with the finished piece.
While on holiday Duncan emailed me this short message and a photograph of his wife wearing it.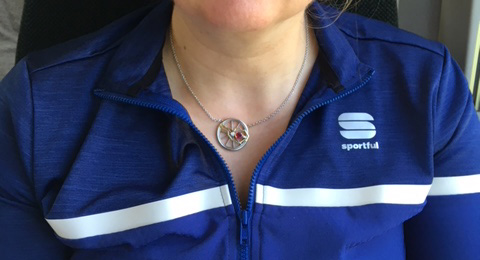 Perfect Pendant
Since returning from holiday Duncan has sent me a further email commenting:
"Christine has loved telling people about the pendant, the wheel, Austria, the ruby and the diamonds.

To be honest I have also loved telling people about getting it made. The guys I tell all say I have set the bar too high!

When we were in Austria we told people about unsere romantische Geschichte."
Christine and Duncan were able to create their own 'Romantic History'.
If you would like to create a piece to celebrate yours, please get in touch. I have customers worldwide, from our home in Glasgow… to London, California, Australia, Switzerland, Botswana, Canada, Singapore and Holland to name a few.
Telephone:
01355 302 960
…or visit myself and Dorothy in the studio: 
Alan P. Fulton, 14 Montgomery Street, Eaglesham, Glasgow G76 0AS