The Initial Contact
Roddy & Olga contacted me with the aim of having a wedding ring made for Roddy as he never received a ring on the occasion of their wedding. Now, having decided to renew their vows, Olga was keen to get Roddy a ring. As Olga hails from Kazakhstan and Roddy from Scotland, their thoughts were to have a motif representative of both countries.
The Meeting
After an initial consultation when Roddy revealed he didn't want a ring that was too wide I had to ascertain how small I could make the respective motifs. Having discussed options a 4.5mm broad ring with 4mm broad motifs might be possible. Olga and Roddy left and I set too to come up with both motifs and sizes possible to achieve.
A Surprise!
A few days later Roddy contacted me to say that as a surprise he would like to present Olga with a similar matching ring but not as broad.
Well, that put the cat amongst the pigeons! Having initially thought, or intimated, 4mm may be the narrowest I could hand pierce and carve the motifs I had to re-evaluate whether it would be possible to make them smaller.
Having designed and agreed the two motifs I scanned them down to 3.75mm broad, the size required for Olga's ring. I initially cut and carved one of each out of silver. Although extremely fiddly I confirmed to Roddy that it would be possible.
As the finger sizes of the two rings were quite different, the repeat pattern of the motifs on each had to be different. This Roddy understood and it was at this time he asked if I could include a few diamonds into Olga's ring. As the pattern of the motifs were repeating three times in Olga's ring three diamonds were included to the design.
The Result
Having been given the go ahead I set about the fiddly and tricky job of carving the motifs out of platinum and applying them to the rose gold rings.
Roddy and Olga were both delighted with the rings and Roddy wrote a comprehensive review on Google – an edited version is below along with images of the rings.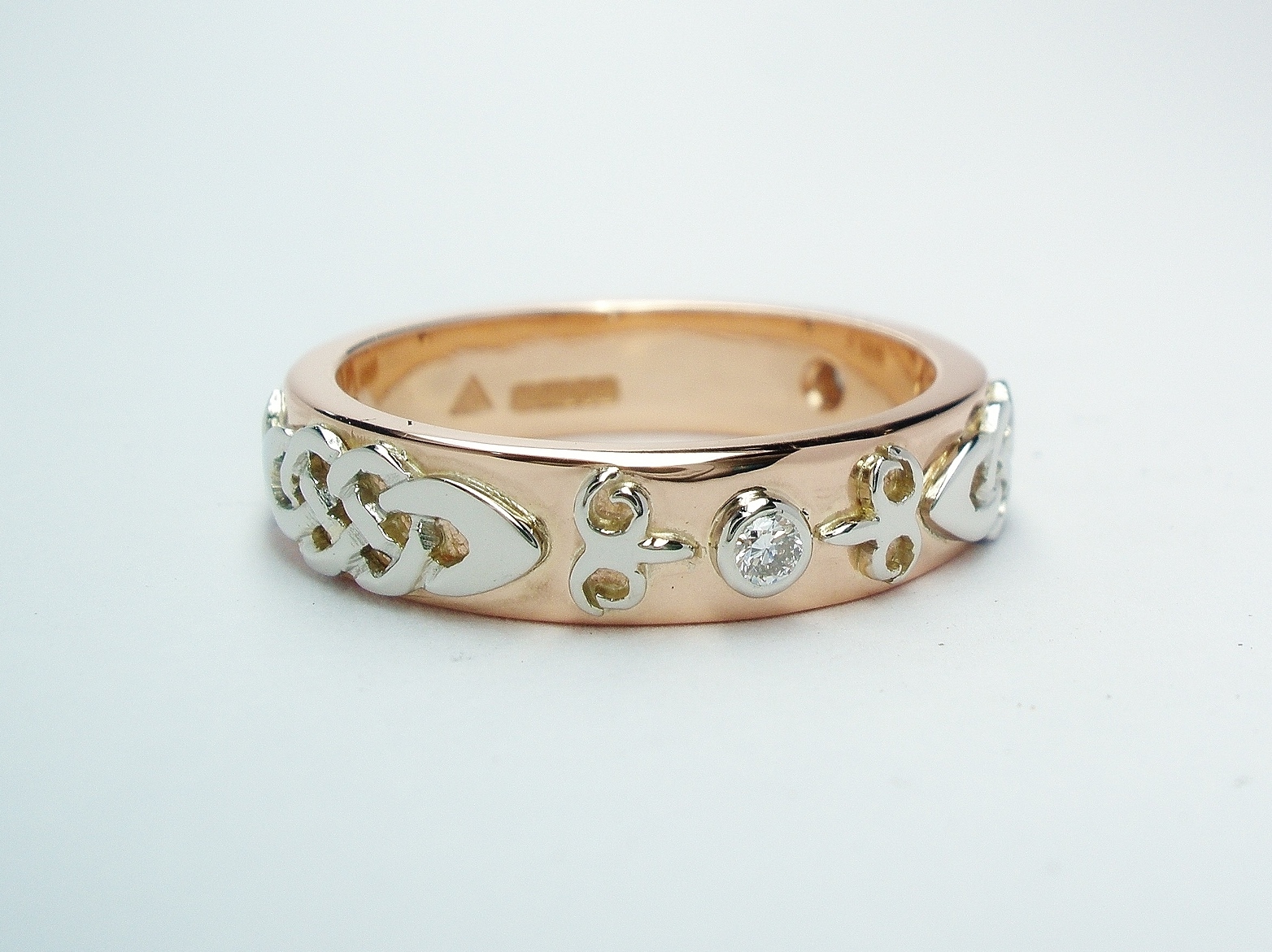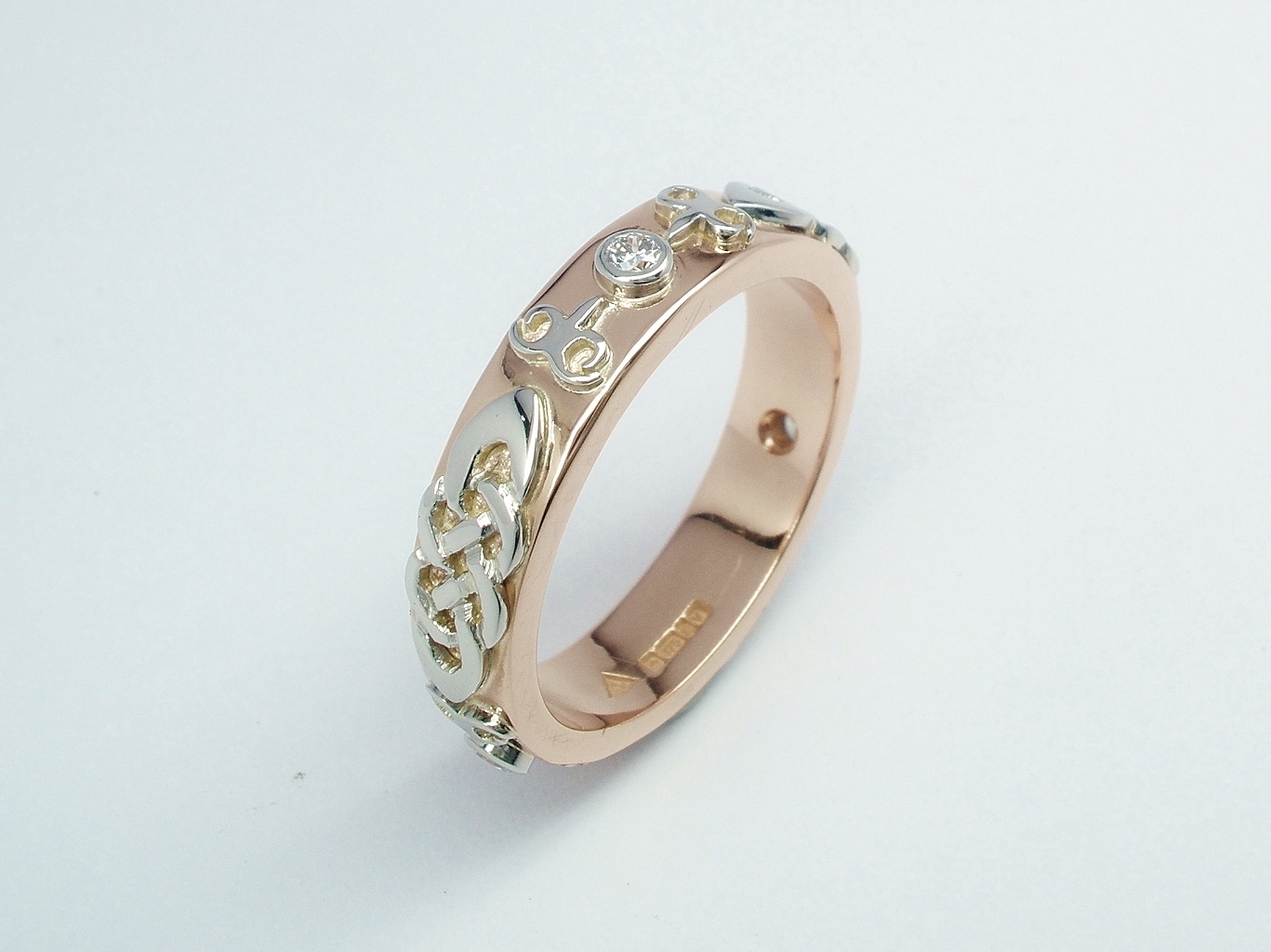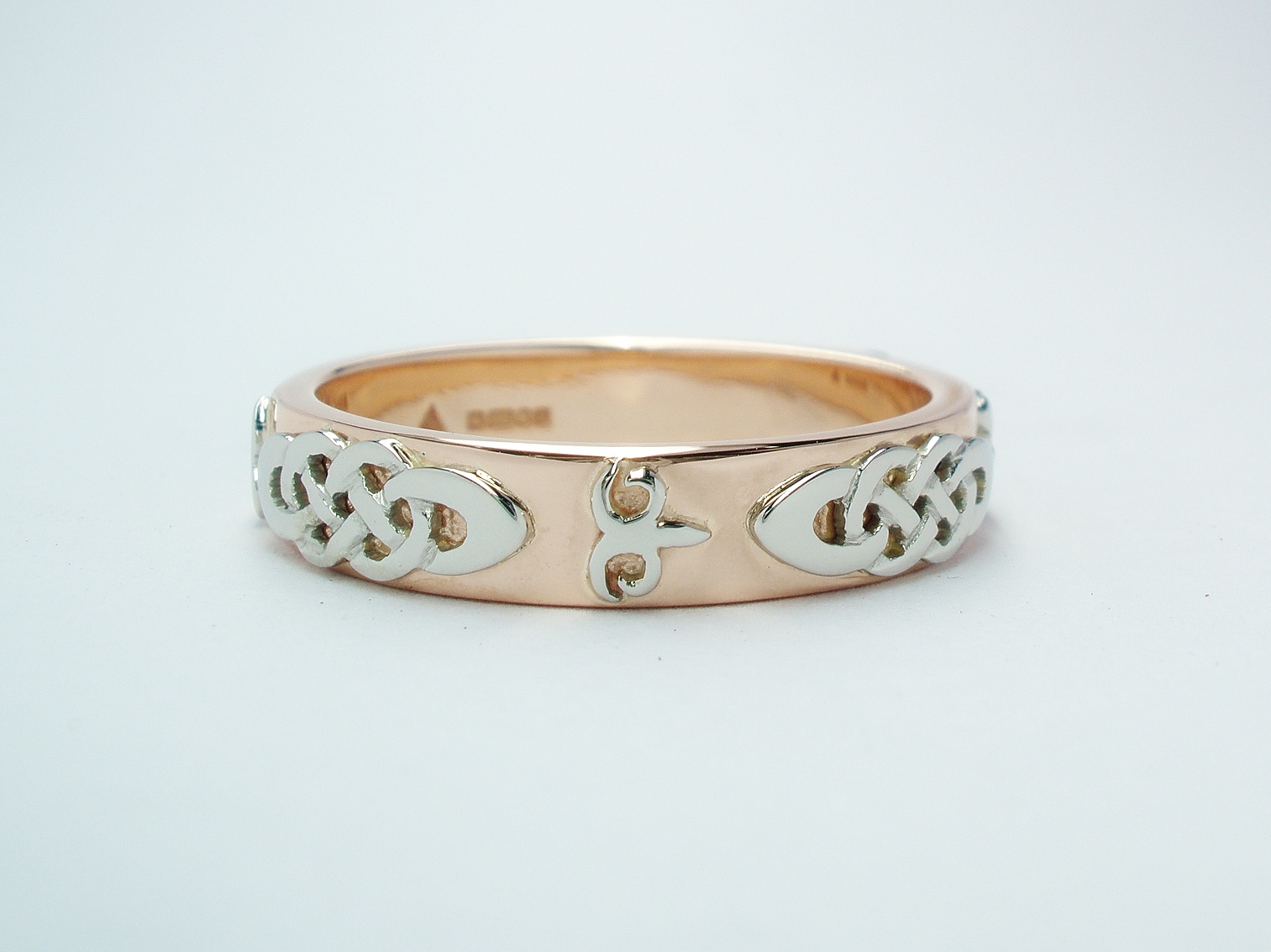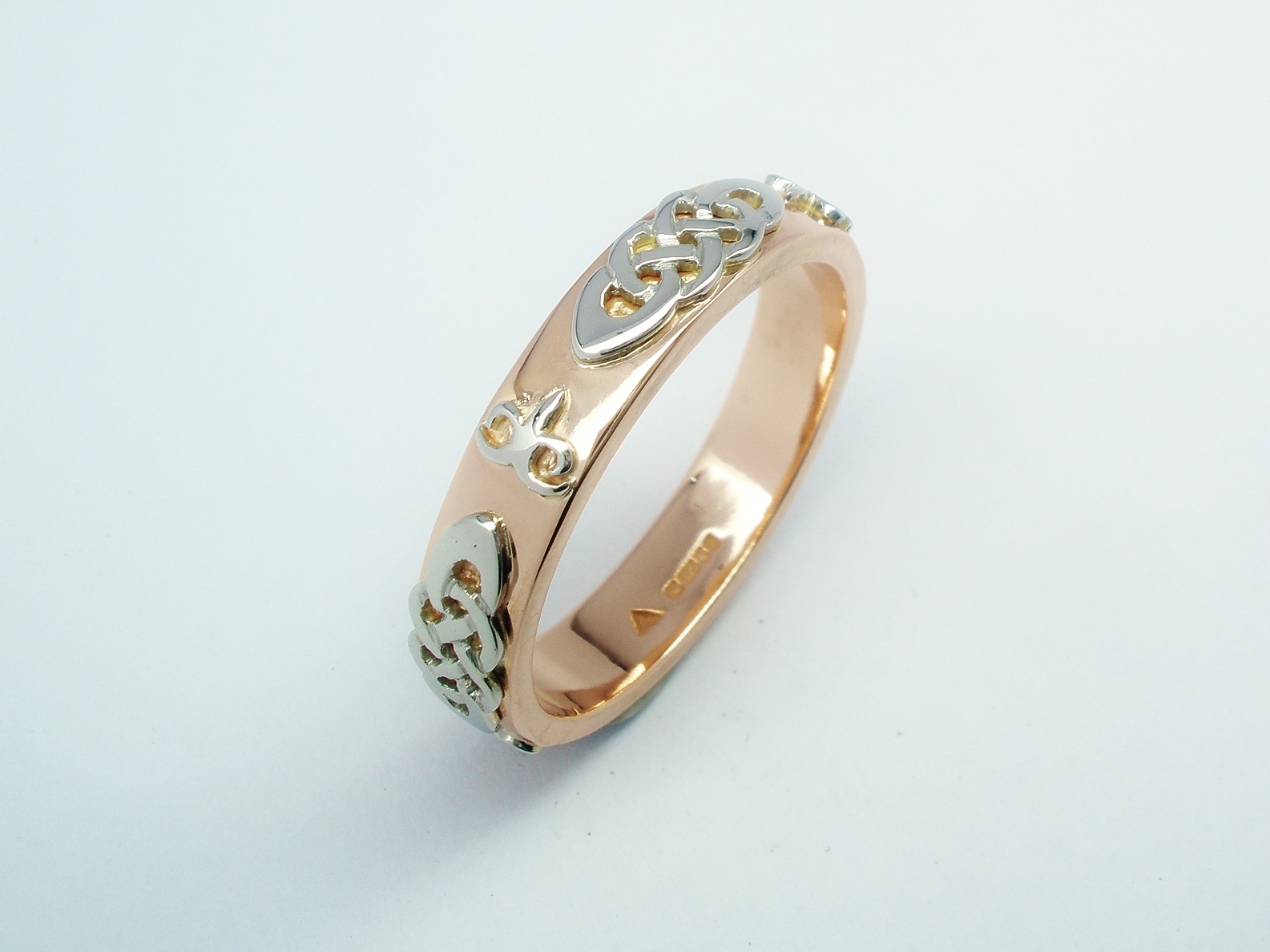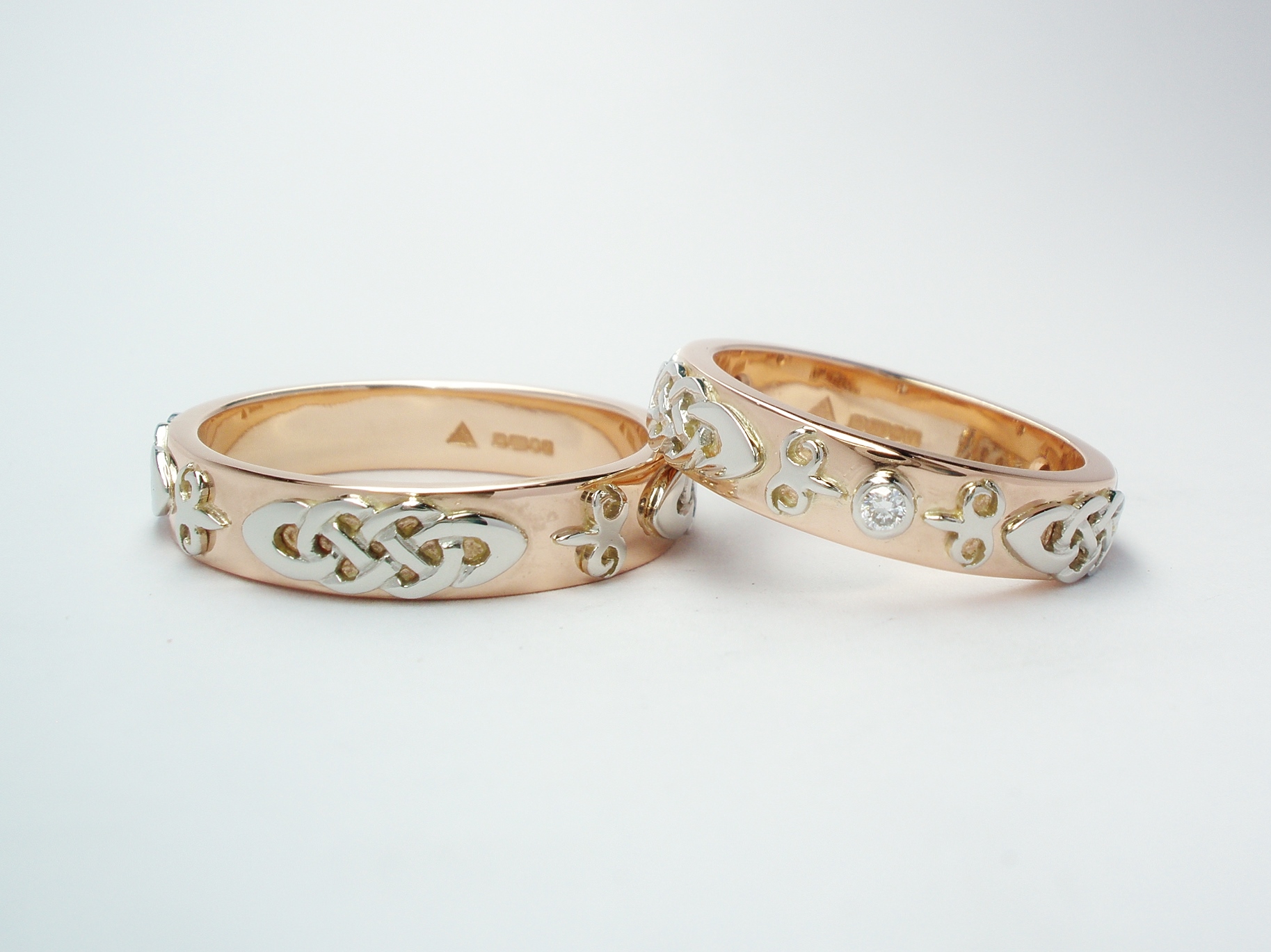 Roddy Writes
"…as I had never gotten round to getting myself a wedding ring, we decided to ask Alan to design something special for me. My wife is originally from Kazakhstan so we asked if he could incorporate some Celtic and Kazakh symbology into my ring. Alan rose to the challenge, creating an intricate Russian / Rose gold ring with Platinum embossing. Without my wife's knowledge I also asked him to create an identical new wedding ring for her with the addition of 3 small diamonds in between the symbols. The end results are stunning. We couldn't be happier with the rings and the care and attention Alan and his wife Dorothy displayed at every opportunity.' '… if you want something that truly reflects your tastes and will always be seen as being as unique as you yourself, then Alan will help you meet those desires. A fantastic artisan jeweller and a genuinely caring service from a lovely, friendly couple that takes pride in every detail, small or large. Can't recommend them highly enough."
Roddy & Olga now have the rings they always wanted to represent their wedding all those years ago. The design was exactly as they wanted, created and delivered by someone they can trust.
If you have an idea for a wedding ring or would like something remodelled, please get in touch. I have customers worldwide, from our home in Glasgow… to London, California, Australia, Switzerland, Botswana, Canada, Singapore, Holland, United Arab Emirates and Oman to name a few.
Telephone:
01355 302 960
…or visit myself and Dorothy in the studio: 
Alan P. Fulton, 14 Montgomery Street, Eaglesham, Glasgow G76 0AS